Der erste FLOTHIC – Adventskalender.
Es können je nach Wunsch, ein oder auch mehrere Türchen gekauft werden. Pro Tür 15,00 €* (zzgl.Porto) (Mehrfachkäufe einer Tür möglich!). Es gibt u.a. signierte Fotos, Zeichnungen, Fotobücher, Drucke und lauter tolle Überraschungen. Es lohnt sich also!
Bezahlen kannst Du einfach über PayPal: info@flothic.com oder per Überweisung.
Türchennummer, Deinen Namen und die vollständige Lieferadresse nicht vergessen.
This is FLOTHIC's first Adventskalender 2022.
You can buy any door you like and how often you like (doors can be bought several times), for only 15,00 €** (excl. shipping costs). There will be photographs, artprints, photobooks, drawings and lots of great surprises.
You can easily pay via PayPal: info@flothic.com or transfer.
Don't forget to name the door you want to buy, your name and full adress.
Viel Spaß!
* Diese Aktion ist befristet und endet am 24.12.2022. Kein Umtauschen möglich. Die Artikel / Motive werden zufällig ausgewählt. Der Käufer bestätigt, die AGBs gelesen und akzeptiert zu haben. Mitmachen kann jeder ab 18Jahren.
** This special ends on December 24th 2022. No exchange possible. The items are randomly selected. The buyer confirms to have read the terms and conditions and must be at least 18 years old.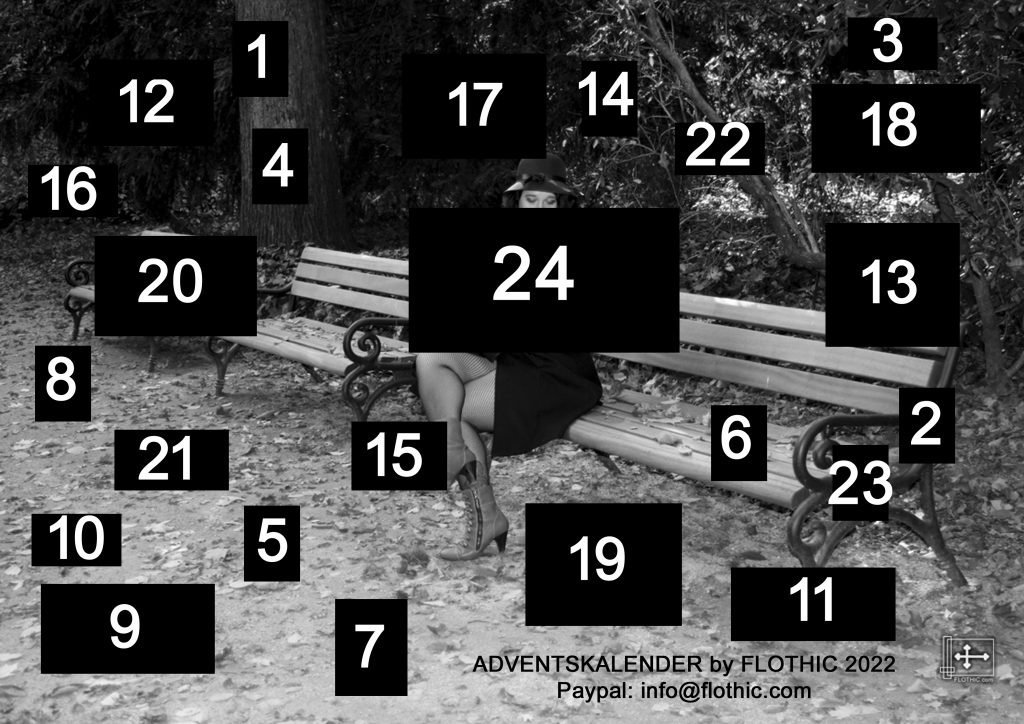 Dies ist meine offizielle Künstler – Internetpräsenz.
Viel Spaß beim Stöbern durch einiger meiner Visionen.
Bei Interesse an meinen Arbeiten oder an einer Zusammenarbeit kontaktiere mich.
This is the official page of FLOTHIC. It's all about art.
Have fun while checking through some of my visions.
Write me for inquiries.
info@flothic.com